There will be no school for students on Monday, January 17, 2022 for observance of Martin Luther King, Jr. Day.

Warrior Events for January 10th - 15th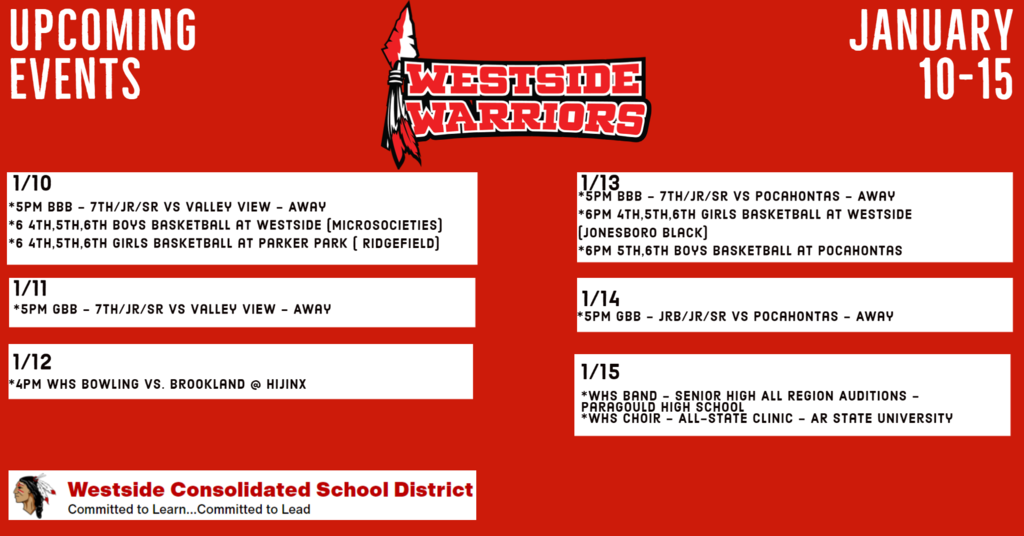 There will be no school for Westside Consolidated School District on December 20, 2021 through January 3, 2022. Students will return on January 4, 2022.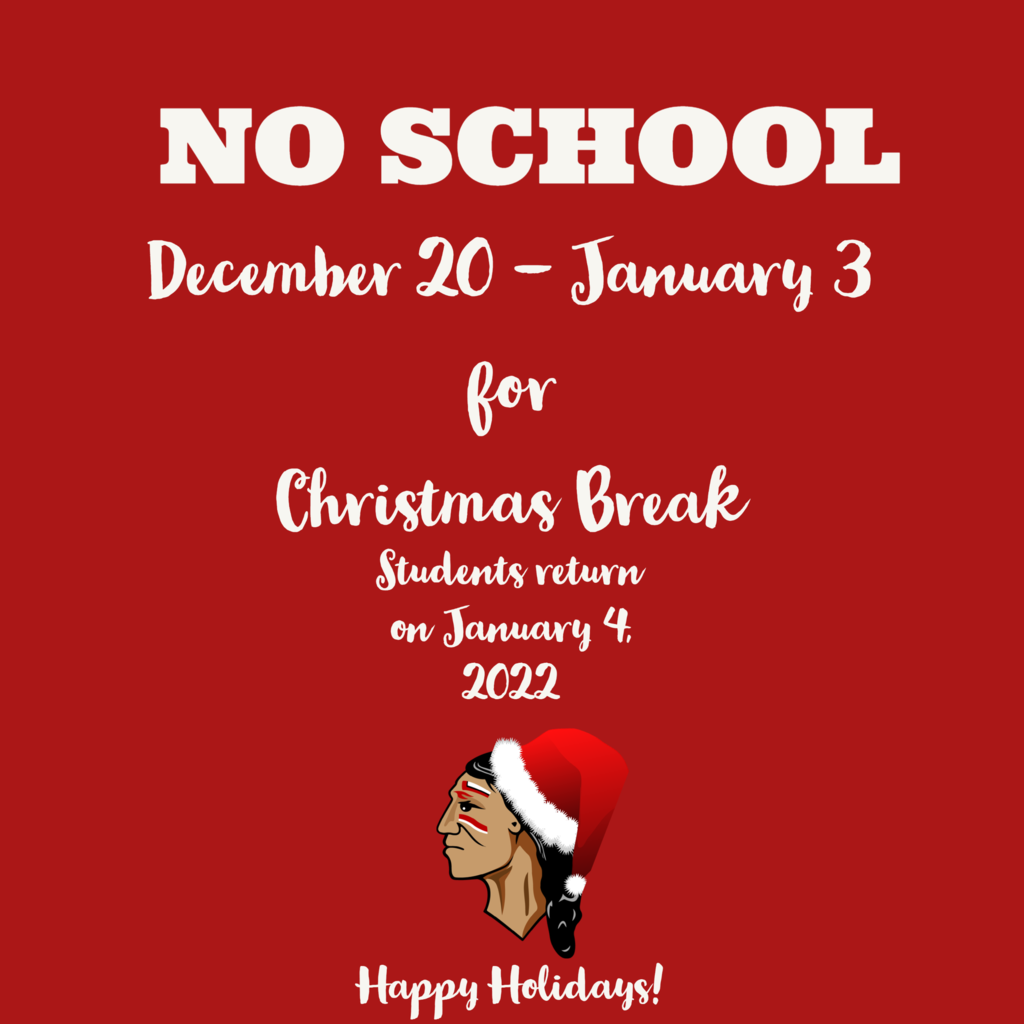 Warrior Events for December 13th - 31st!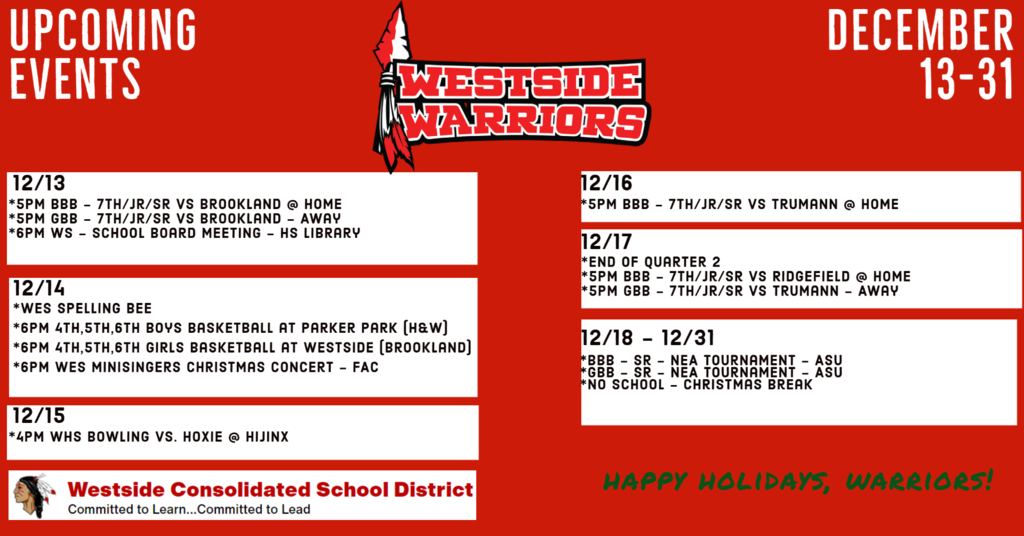 Warrior Upcoming Events for December 6th-11th!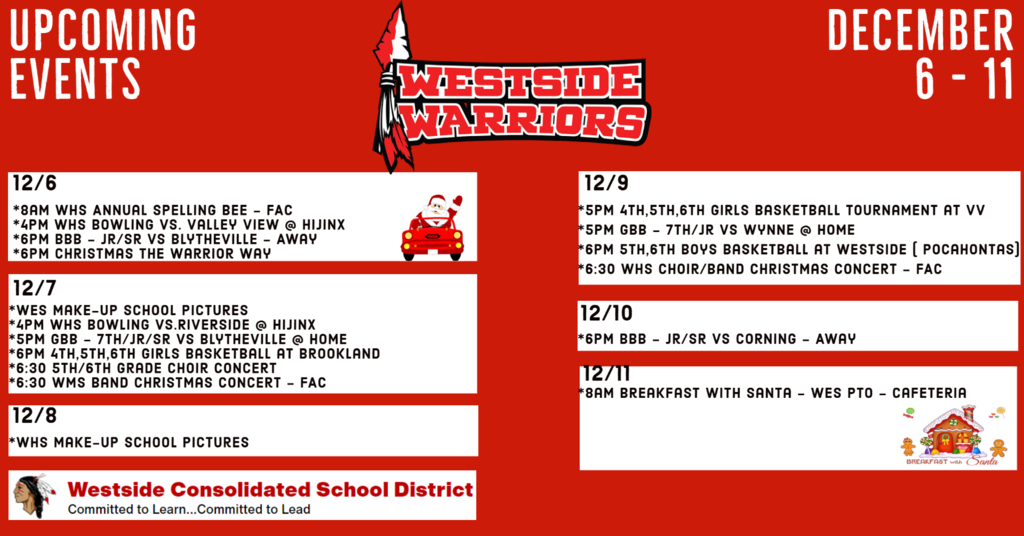 No School on November 22nd-26th for Teacher Professional Development Make-up Days and Thanksgiving Break. School will resume on Monday, November 29, 2021.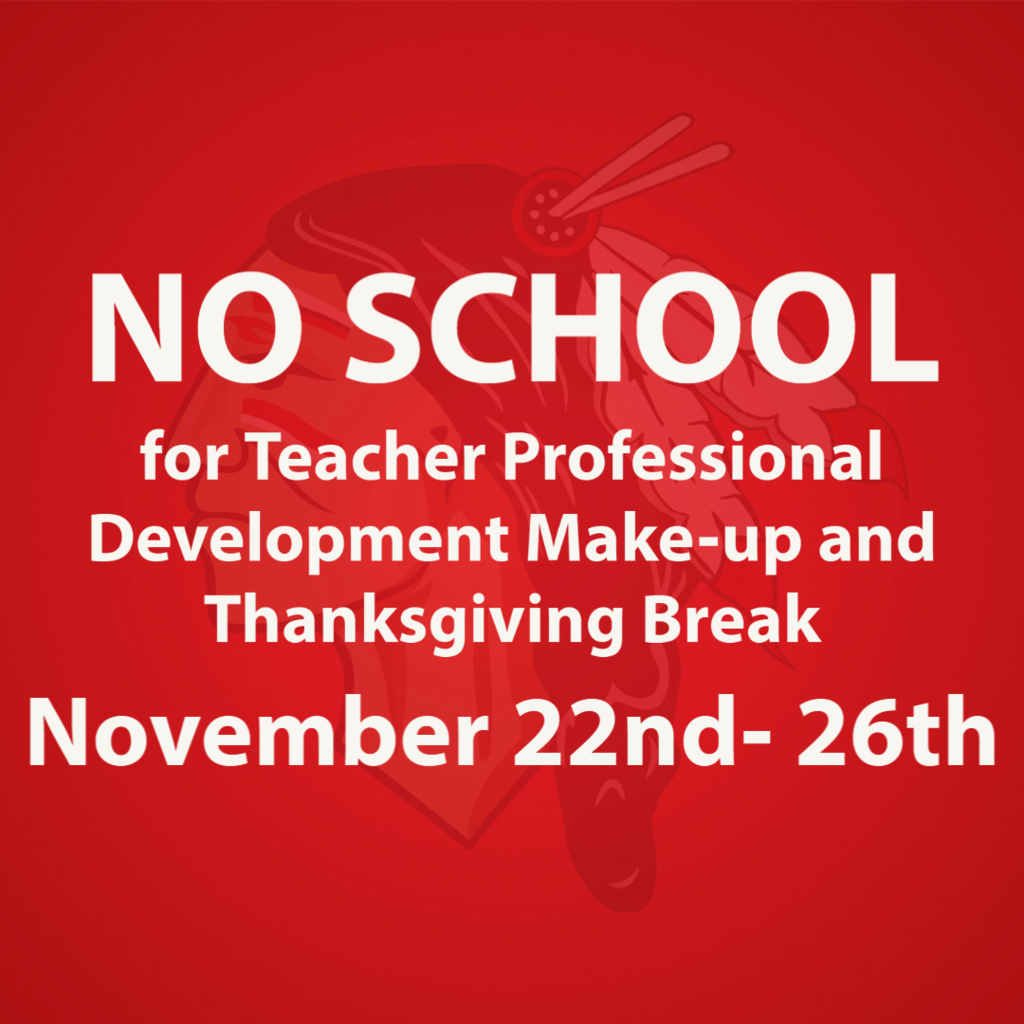 Warrior Events for November 15th- 20th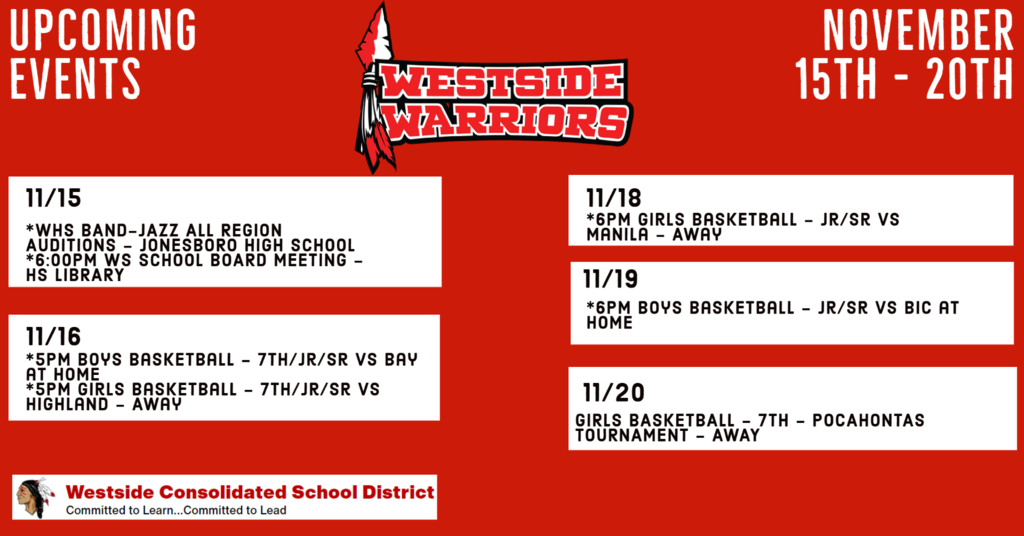 Parents: As cooler weather approaches, please remember to send a coat or jacket with your student that is clearly labeled with his or her name and check daily to see that it made it back home. Our lost and found is growing daily at the elementary school, so if your child is missing an item, please remind them to check the lost and found.

2021/2022 Warrior Basketball Schedules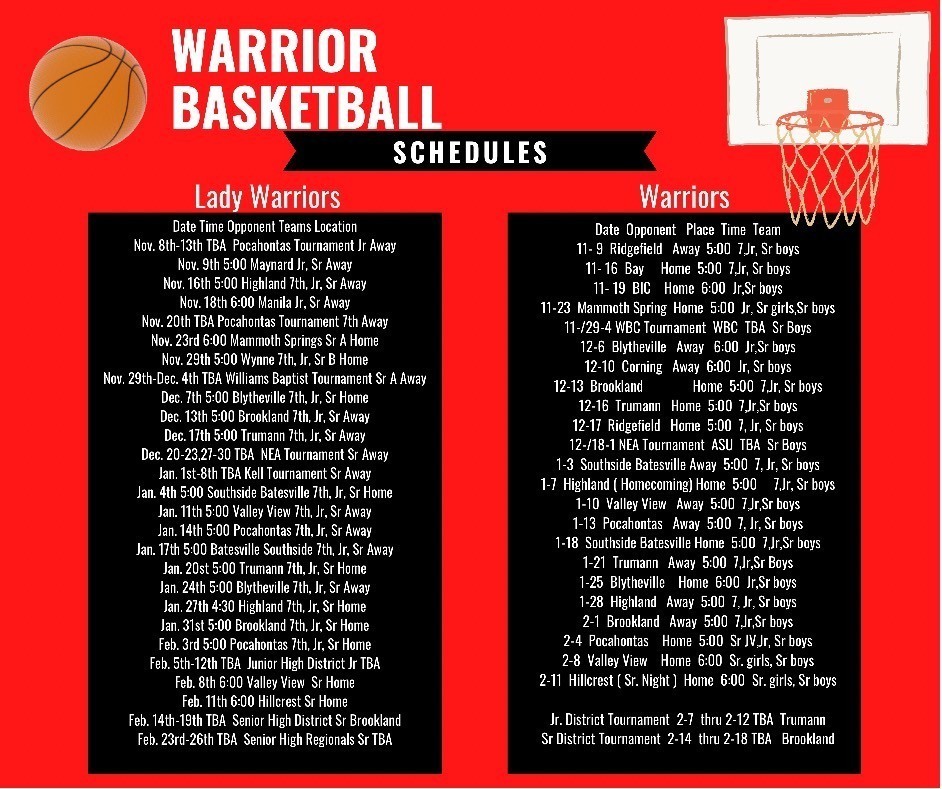 Tickets for Friday Night's Football game vs. Prairie Grove may be purchased at
https://gofan.co/app/school/AAA
. There will be no cash sales at the gate. All tickets are sold online. AAA passes are the only passes honored for the State Playoffs. Any other passes will not be honored.

The 8th Annual Red & White Boys Basketball Games, BBQ Dinner and Auction will be held on Monday, November 1, 2021 starting at 5:30 p.m. in the WHS Gym & Cafeteria.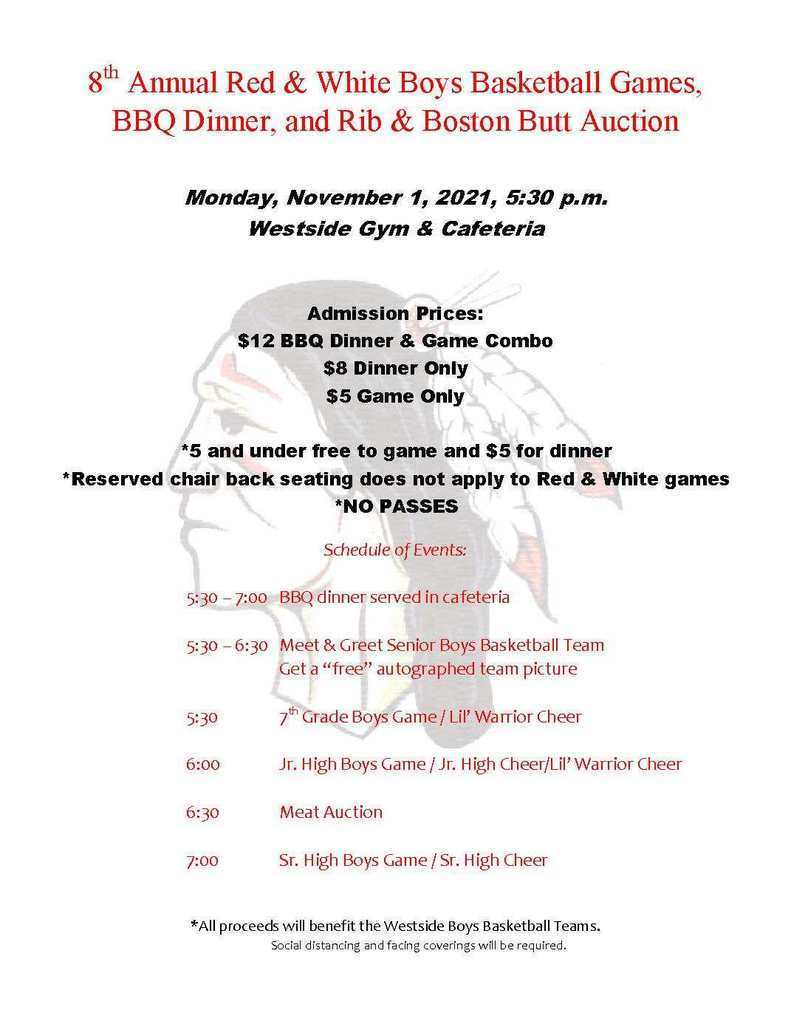 What's happening with the Warriors? See attached upcoming events for the week of November 1st - 6th!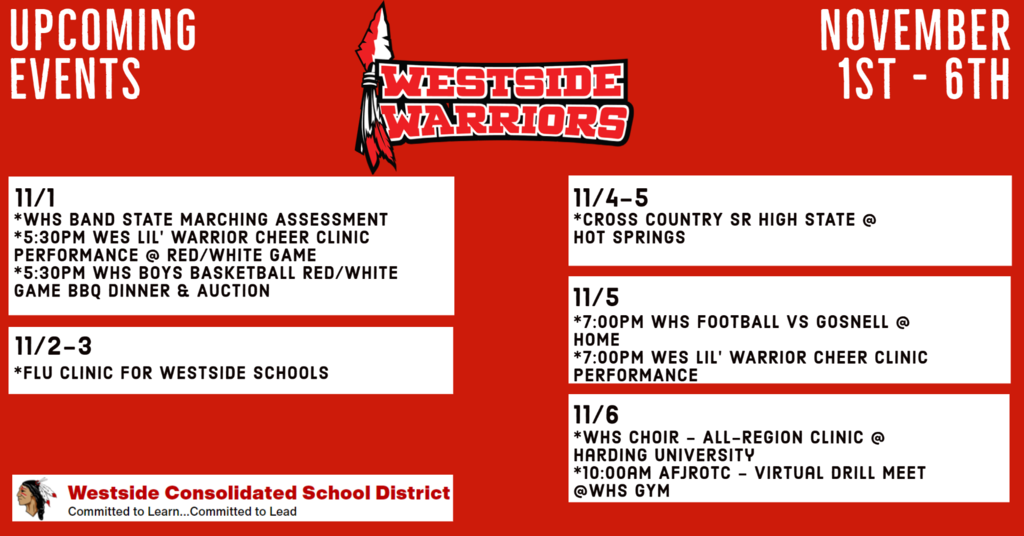 Funny Little Thing Called Love will be performed by the WHS Theatre students and directed by Rita Johnson , November 11, 12, and 13th. The show begins @ 7:00 PM each evening in the WHS Fine Arts Center. Ticket prices are $3.00 for Students, $5.00 for Adults and can be purchased at the door the evening of the performances. Social distancing will be followed by the audience and masks will be worn by the crew backstage. The cast will not be masked for the performances. The story line is about the 4 letter word :L-O-V-E and takes place under a full moon on the same evening in various locations around the world; From Florida to Dallas, to Hawaii to a roof top in London, cupid's love arrow just can't be ignored. This deliriously funny comedy by Jessie Jones, Nicholas Hope, and Jamie Wooten is a show you don't want to miss.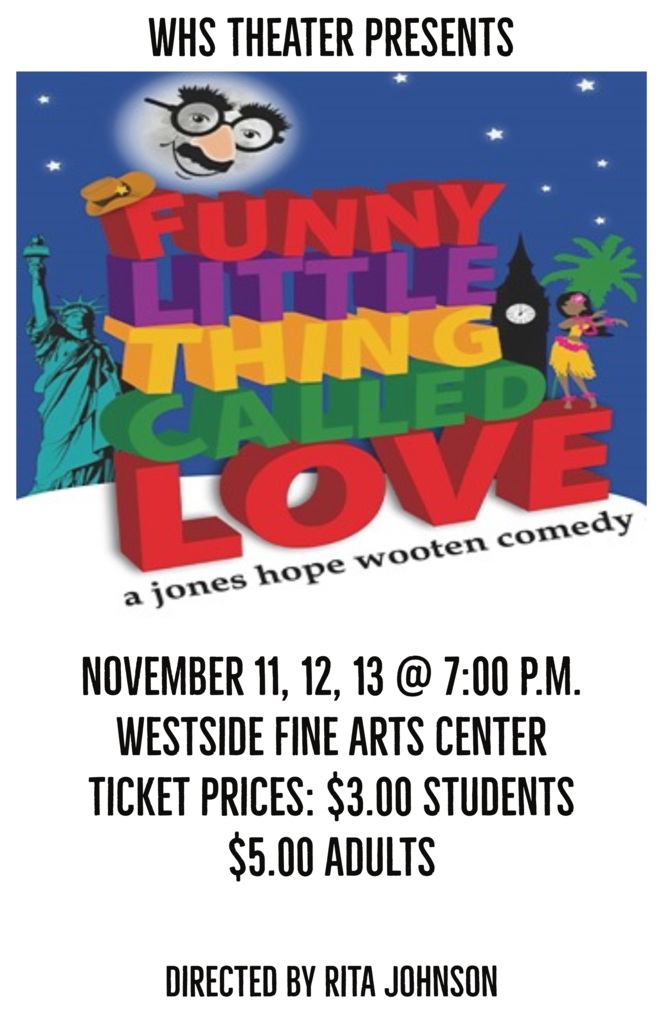 There will be No School on Friday, October 15, 2021 for Teacher Professional Development Make-up. School will resume on Monday, October 18, 2021.

Parent/Teacher Conferences will be held Thursday, October 14th from 3:30-8:30 p.m. Please contact your teacher via email to schedule your students' conference. The teacher email addresses can be found at westsideschools.org under the staff pages.

Due to continuing rain, the Cheer Clinic performance will be moved to Friday, Nov 5th. More details will be sent home with participants next week. We apologize for any inconvenience this may cause! Contact
lmcnair@westsideschools.org
or
jpainter@westsideschools.org
for questions.

Westside Schools will be closed Monday, September 6, 2021 in observance of Labor Day. School will resume on Tuesday, September 7, 2021.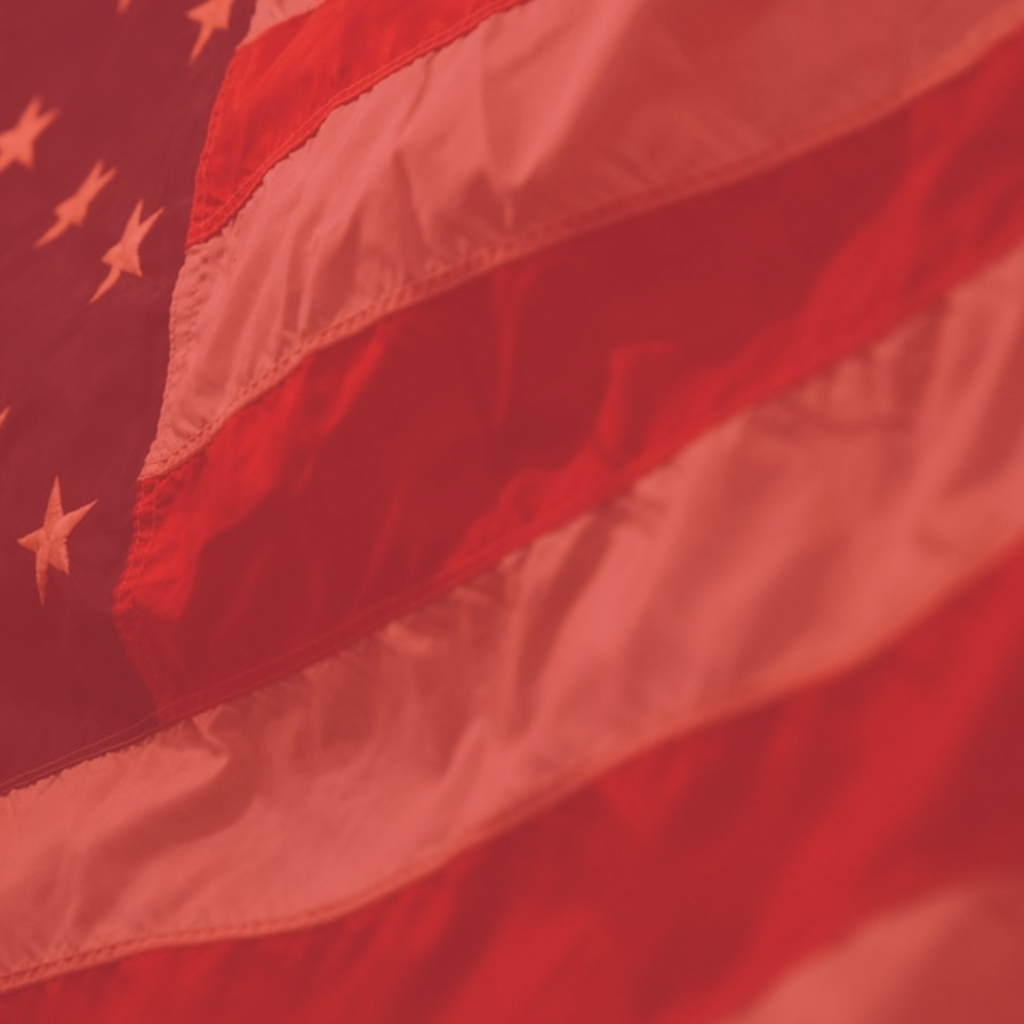 We're excited to be opening the Warrior Dome for the 2021-2022 volleyball and basketball seasons! The waiting list for the chairback gym seating will open on July 1, 2021 at 12:00 a.m. Please call 870-336-8015 or email
dpassmore@westsideschools.org
to be added to the list.

Don't forget about our free summer meals for kids 18 and younger. The meals will be served at the middle school. Breakfast: 8:00-9:00, Lunch: 11:00-12:00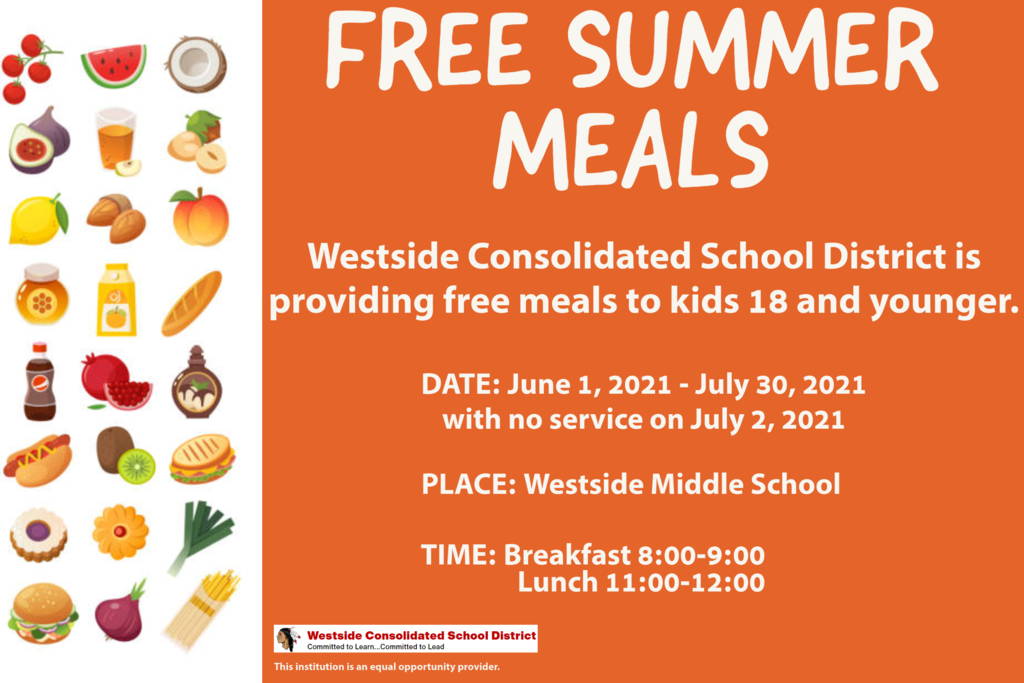 FREE SUMMER MEALS Westside Consolidated School District is providing free meals to kids 18 and younger this summer. Date: June 1, 2021-July 30, 2021 with no service on July 2, 2021 Place: Westside Middle School Time: Breakfast 8:00-9:00 and Lunch 11:00-12:00